Optica™ ClearSet Portable Keychain Reading Glasses(BUY 3 GET FREE SHIPPING)
20/20 Vision In Your Pocket.
If you have reading glasses.. you know how hard it can be to remember to carry around that bulky case, only to use the glasses once a day. 
Optica™ ClearSet are the worlds most compact reading glasses. Giving you 20/20 vision, in your pocket! Wether you're reading the paper or quickly browsing labels, menus, sell by dates etc. you'll always have access to clear sight in an instant.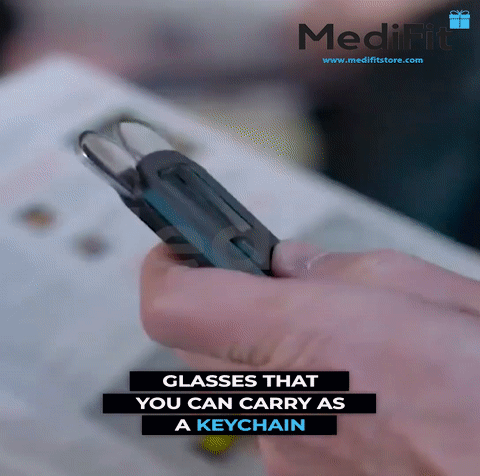 The glasses use a flexible bridge and slider system to store and release the glasses in under a second. The case itself is so thin and light, it's less noticeable than your car key.
"I'm forever leaving my glasses at home, the wife goes crazy! When i do remember them i hate carrying around the big old case, when i might only read for 30 seconds. These little keyring glasses give me one less thing to worry about!! Love them :)"
The flexible comfort grip bridge sits snug on your nose, without the need for uncomfortable arms. Perfect for reading in bed of an evening! 

FEATURES:
The worlds most compact full size reading glasses give you crystal clear vision in seconds. 
Soft and comfortable on your nose, and designed not to slide off! No need to worry about special sizing.
Simply slide and seat, the glasses use a fast and easy sliding mechanism to store and release.
Durable and long lasting - with flexible bridge and no arms to snap, theres nothing to go wrong! You can't lose them, and they wont break.. the Optica™ ClearSet are a lifetime partner.  
PACKAGE INCLUDES: 
1 x Optica™ ClearSet Portable Keychain Reading Glasses